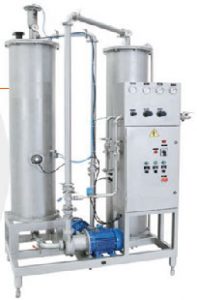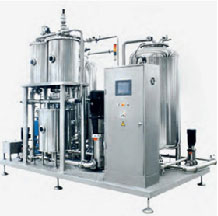 Carbonator machine is used to add or dissolve tiny bubbles (CO2) in beverages. The carbonation effect also adds a sparkle to wine, water, a dynamic head to tall glasses of beer, and generally adds a kick to adult drinks. The process infuses soft drinks with fizz. It tickles the tongues of youngsters with effervescence when they pop open a can of soda.
The machine can dissolve the CO2 in the final product or in the tank.
Final product carbonating, it shows an auxiliary pipeline of gasification, where the process is completed by an injector pipe. The carbonating inside of the tank occurs for the distribution of the trays, offering a large area of contact between the product and CO2, facilitating the absorption by the liquid.
This carbonator can be also supplied with deaerator to remove oxygen first in water before carbonation.
ADVANTAGES:
Maximum sanitary control
Totally made of stainless steel
Low pressure high efficiency equipment
Control panel designed based on your requirement
TECHNICAL DATA
Capacity range from 6,000ltrs/h to 60,000ltrs/h