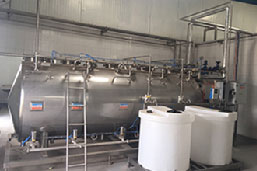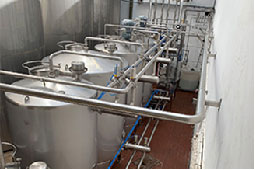 The purpose of Cleaning in Place (CIP) is to remove product residues and microorganisms from all wetted surfaces inside tanks, pipework and filling machines. Alpes provide CIP solution for process cleaning in dairy beverage industry.
Our CIP solution are fully adjustable to your needs to give you the most cost effective solution to manage easily and automatically your industrial cleaning while respecting the highest quality standards of hygiene. With the possibility of design yourself precise and adapted cleaning recipes to your equipment, our CIP solution will guarantee you to reach yours expectations.
Whether you need specialty flooring for a hospital, food processing plant, grocery store, classroom, laboratory or almost any other environment, we have the coatings and treatments you need.
ADVANTAGES:
– Easy to use
– Cost effective
– Super effective
Fully automated
Adaptable to your needs
Installation & commissioning made by our experts
After sales assistance
TECHNICAL DATA
| | | | | |
| --- | --- | --- | --- | --- |
| Item | Option 1 | Option 2 | Option 3 | Option 4 |
| Nbr of Lines | 1 | 2 | 3 | 4 |
| Nbr of Tanks | 4 | 5 | 5 | 5 |
| Type of Tank | 1 Tank with 4 compartiments | Separate Tank | Separate Tank | Separate Tank |
| Tank Capacity | 1.500 L | 2.000 L | 5.000 L | 10.000 L |
| Forward pump capacity | 15.000 L/Hr | 20.000 L/Hr | 25.000 L/Hr | 25.000 L/Hr |
| Sanitation | Yes | Yes | Yes | Yes |
| Water Re-use | No | Yes | Yes | Yes |